Parish Clergy
Father Gregory Christakos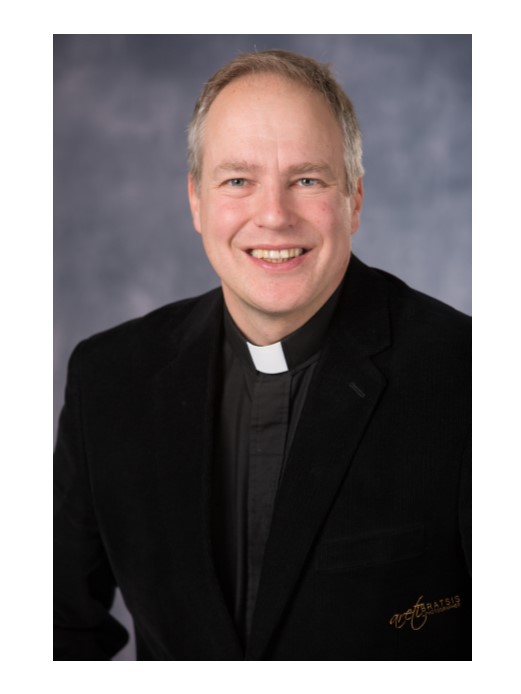 Father Gregory was born in Lawrence, Massachusetts, and grew up in nearby Methuen. He is the son of Christos Christakos and the late Carol (Casale) Christakos. As a child Father attended Sts. Constantine & Helen Greek Orthodox Church in Lawrence and Andover and would later become the first young man from that community to be ordained.
He graduated with honors from the University of Virginia and Holy Cross Greek Orthodox School of Theology and also studied at Oxford University and St. Vladimir Orthodox Theological Seminary. While in school Father played rugby and was active in many organizations.
After graduation from seminary, he was married, and then ordained to the diaconate and priesthood by Metropolitan Methodios. He spent six years as the assistant pastor at St. Spyridon Cathedral in Worcester.
He is a member of the Middle East Studies Association and the Association for the Study of the Middle East and Africa, and is a senior fellow of the Sophia Institute of Union Theological Seminary. Among his many interests are Semitic languages and Near Eastern History. He is an avid outdoorsman and musician.
Father spent five years on the board of directors of Holy Trinity Nursing and Rehabilitation Center and has been a member of AHEPA since 1996.
Fr. Gregory, Presbytera Eleni, and their two daughters officially joined our community on our feast day, November 1, 2011, and the next summer welcomed a son to their family.

Read Fr. Greg's blog at www.devshirme.com and follow him on Twitter at @FrXtakos



---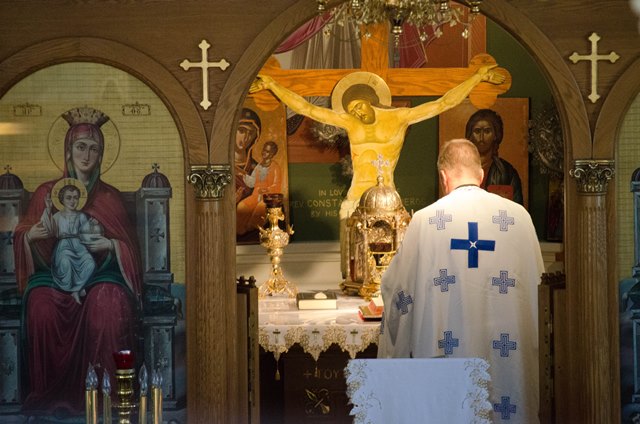 Father's Message
Commitment
In his time in this world, Jesus was known as a popular itinerant preacher and storyteller. The world of the ancient Near East was much simpler than that of our modern society, with our smart phones, computers, and other sources of endless entertainment. In a typical ancient Near East village the sources of entertainment were song, dance, and storytelling. In this context, Jesus was an honored guest when he entered a village, and he was especially known for his storytelling which, unlike that of his peers, often used parables to tell stories. In the Gospel accounts of Matthew, Mark, and Luke (the Gospel of John is written in a very different style and has no parables), there are around 60 parables attributed to Jesus.
Parables are analogical ways of making a point and are designed to be understood by those who hear them. One of Jesus's more famous parables is the Parable of the Sower. Every fall in our church we hear the version of the story told in the Gospel of Luke:
And when a great multitude had gathered, and they had come to Him from every city, He spoke by a parable: "A sower went out to sow his seed. And as he sowed, some fell by the wayside; and it was trampled down, and the birds of the air devoured it. Some fell on rock; and as soon as it sprang up, it withered away because it lacked moisture.
And some fell among thorns, and the thorns sprang up with it and choked it. But others fell on good ground, sprang up, and yielded a crop a hundredfold." When He had said these things He cried, "He who has ears to hear, let him hear!" Then His disciples asked Him, saying, "What does this parable mean?"
And He said, "To you it has been given to know the mysteries of the kingdom of God, but to the rest it is given in parables, that
'Seeing they may not see,
And hearing they may not understand.'
"Now the parable is this: The seed is the word of God. Those by the wayside are the ones who hear; then the devil comes and takes away the word out of their hearts, lest they should believe and be saved. But the ones on the rock are those who, when they hear, receive the word with joy; and these have no root, who believe for a while and in time of temptation fall away. Now the ones that fell among thorns are those who, when they have heard, go out and are choked with cares, riches, and pleasures of life, and bring no fruit to maturity. But the ones that fell on the good ground are those who, having heard the word with a noble and good heart, keep it and bear fruit with patience.
There is an interesting wrinkle in this parable; Christ explains it to his disciples - something we do not encounter in other places - and quotes the Book of Isaiah: "Seeing they may not see and hearing they may not understand." This seems counterintuitive - aren't parables told in such a way to make things more understandable rather than less? The point Christ is making here is that it takes commitment to be a Christian. Christ tells his stories in a certain way, but we need to put in the effort to truly understand them.
Father's Messages Archives
Click below to read previous messages: