Parish Clergy
Father Gregory Christakos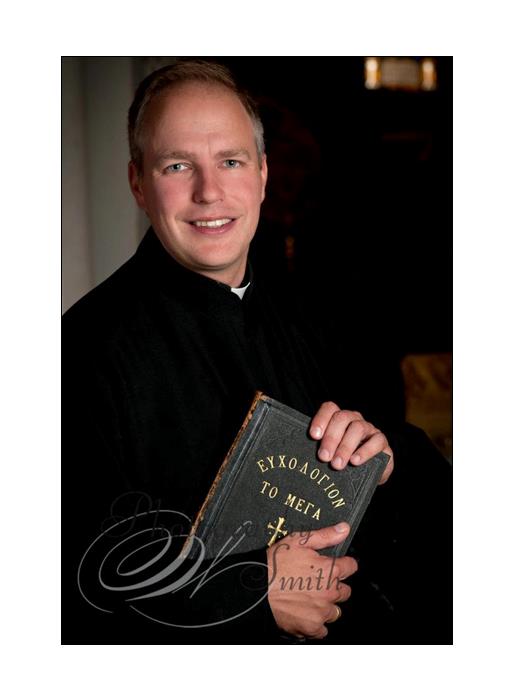 Fr. Gregory was born in Lawrence, Massachusetts, and grew up in nearby Methuen. He is the son of Christos Christakos and the late Carol (Casale) Christakos. As a child Father attended Sts. Constantine & Helen Greek Orthodox Church in Lawrence and Andover and would later become the first young man from that community to be ordained.
He graduated with honors from the University of Virginia and Holy Cross Greek Orthodox School of Theology and also studied at Oxford University and St. Vladimir Orthodox Theological Seminary. While in school Father played rugby and was active in many organizations.
After graduation from seminary, he was married, and then ordained to the diaconate and priesthood by Metropolitan Methodios. He spent six years as the assistant pastor at St. Spyridon Cathedral in Worcester.
He is a member of the Middle East Studies Association and the Association for the Study of the Middle East and Africa, and is a senior fellow of the Sophia Institute of Union Theological Seminary. Among his many interests are Semitic languages and Near Eastern History. He is an avid outdoorsman and musician.
Father spent five years on the board of directors of Holy Trinity Nursing and Rehabilitation Center and has been a member of AHEPA since 1996.
Fr. Gregory, Presbytera Eleni, and their two daughters officially joined our community on our feast day, November 1, 2011, and the next summer welcomed a son to their family.

Read Fr. Greg's blog at www.devshirme.com and follow him on Twitter at @FrXtakos



---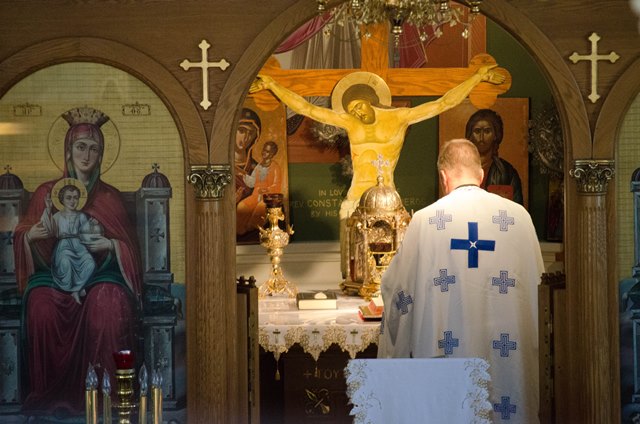 Father's Messages - Archives



Click below to read previous messages:
Father's Message
God And Clothes
We are all familiar with the story of Adam and Eve in the Garden of Eden and their disobedience to God. The story forms the basis of our Orthodox understanding of humanity - we are imperfect beings striving to continuously improve and live holy lives. One of the many facets of the story is the introduction of the idea of shame - Adam and Eve, after sinning, become aware that they are naked and, in the brief verse 21 in Genesis 3, we learn that God made "garments of skin" for them to wear. This is an interesting detail (and in the Bible the details have meaning - they are never just added for color). Why did God choose to make clothes from animal skins rather than from a plant-based material? The idea is that disobedience to God affects everyone and everything and disrupts the created world. Animals - our fellow creatures also created by God as we were - had to be sacrificed to atone for man's sin. It is a powerful image that is easily missed upon a quick reading.
The feast of Epiphany, or Theophany ("a manifestation of God") as it is known in Orthodoxy, is considered by the Church to be the second most important feast after Pascha. Among many other things, the baptism of Christ is the first time the Holy Trinity is make known, with the Holy Spirit coming as a dove and God's voice being heard.
The icon of the feast, as with all icons, is packed with meaning and comes from a time when most people couldn't read - icons were educational tools as much as if not more than art. Christ stands in the center of the icon wearing almost no clothes; he does have a towel around his waist out of care for societal propriety but the point is he is naked, just as Adam and Eve were. But there is no shame - only a sense of triumph. In 1 Corinthians 15, Paul connects Christ with Adam - Christ is the new Adam. Paul compares the two and shows how in Christ all of Adam's earthly - true to his name, for Adam means "ground" in Hebrew - failings are perfected in Christ. Paul ends his discourse thusly: "And as we have borne the image of the man of dust, we shall also bear the image of the heavenly man".